KUALA LUMPUR, 30 Dec 2020 – In conjunction with its 50th anniversary celebration, Arkib Negara has developed the digital book of '50 Fakta Rukun Negara'. This e-book is a compilation of 50 historical facts on Malaysia's National Principle. The virtual launching of 50 Fakta Rukun Negara e-book took place on the 20th of December 2020 via live streaming on social media platforms via Facebook. The 50 pages, downloadable version of the document is currently accessible over a dedicated Arkib Negara web page http://rn50.arkib.gov.my/ and aimed to be downloaded by 10,000 schools in Malaysia.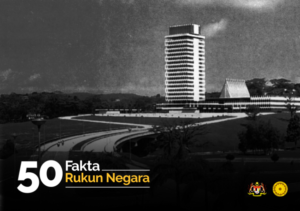 To enhance scalability and ensure faster experience for users to download the e-book and access videos of the live streaming, IPSB worked with Amazon Web Services' (AWS) using their CDN, EC2 and S3. News on the e-Book appeared on Malaysian television programme, Malaysia Hari Ini on the 28th of December 2020. View a short video of the recording session which can be found on Youtube, here.
For more information, visit Arkib Negara at http://www.arkib.gov.my/web/guest/home or download the document here. You can also visit their Facebook and Instagram pages.
For more information on IPSB Technology, visit our website here or follow us on instagram, Facebook and LinkedIn