Website Content Delivery Network Campaign with Amazon Web Services
July 9, 2020, Kuala Lumpur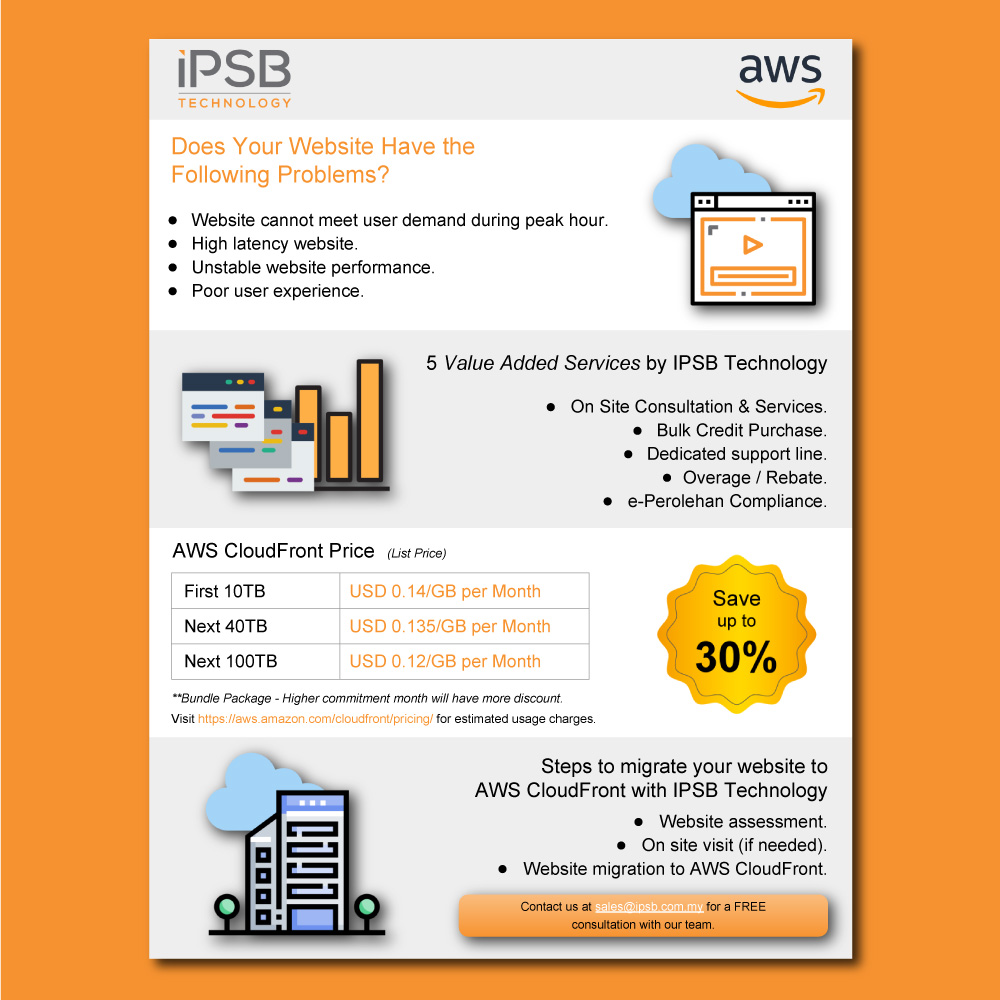 IPSB Technology launched our first Website Content Delivery Network (CDN) Campaign with Amazon Web Services (AWS)! This inaugural campaign is the beginning of many more exciting campaigns with AWS. In response to the Covid-19 pandemic, AWS Public Sector launched several aids to help our public sector websites scale at unprecedented volume due to the high traffic received.  For this campaign, IPSB  aims to help websites with similar issues to address their concerns by providing consultation and education as well as seamlessly implementing AWS CDN.
How to Scale Your Website with Ease on AWS:
Is high traffic at peak hours causing unstable performance on your website?

Do you need an e-Perolehan compliant payment method to subscribe to AWS?
Need to understand better? Visit our dual-language landing page
For more information on
Customer Use Cases:
Contact any of our team members to scale your website with AWS at sales@ipsb.com.my or call us at +603-61505029
---
IPSB Technology melancarkan Kempen Rangkaian Penyampaian Kandungan Laman Web (CDN) pertama kami dengan Amazon Web Services (AWS)! Kempen perdana ini adalah titik permulaan kepada banyak lagi kempen menarik bersama AWS. Sebagai langkah tindak balas terhadap isu pandemik Covid-19, Sektor Awam AWS melancarkan beberapa inisiatif untuk membantu laman web sektor awam untuk mencapai jumlah trafik yang optimum. Bagi perlaksanaan kempen ini, IPSB mensasarkan untuk membantu laman web yang menghadapi masalah sama untuk mengatasi masalah mereka dengan memberikan perundingan dan pendidikan serta melaksanakan AWS CDN dengan lancar.
Bagaimana menimbang Laman Web Anda dengan mudah dengan AWS:
Adakah lalu lintas yang tinggi pada waktu puncak menyebabkan prestasi tidak stabil di laman web anda?
Adakah anda memerlukan kaedah pembayaran yang mematuhi e-Perolehan untuk melanggan AWS?
Ingin mengetahui lebih lanjut? Lawati laman pendaratan dwibahasa kami di
Untuk maklumat lebih lanjut:
Kes Penggunaan Pelanggan:
Hubungi kami untuk meningkatkan prestasi laman web anda dengan AWS di sales@ipsb.com.my atau hubungi kami di +603-61505029.