The Good & The Bad in Maintaining Communications during MCO
20 April 2020 by Irni Shazana, Head of Operations
Social distancing (again) and other safety measures have severely impacted the day-to-day operations for businesses; luckily technology is always morphing, expanding and is here to stay. As each new technology enters the scene, it has the vast potential to improve lives. However, in certain cases, it also has the potential to negatively affect a person's physical and emotional health.
Of course, working from home and leveraging on technology has its perks. We have all heard about the good things that come with technology in communication:
Video conferencing
– allows for real-time contact with separated families, and it's certainly great to have business discussions at the comfort of your own home.
Digitalized networks and cloud adoption
– enable efficient business communications through office phones, or having to send a file to a partner/customer when you are miles away from the office
Social interactions
– with partners and customers through websites and social media, which allows for real time support.
However, keeping the lines of communication open can be the difference between effectively managing your workforce and having a walkout or work stoppage on your hands. And this comes at a cost.
Let's have a look at the three (3) things that could possibly be bad:
Using mobile devices and computers for too long at a time is potentially bad for our posture and mental health.
Carpal tunnel. Desk slump. Text neck. Whatever you call it, the way we hold ourselves when we use devices like phones, computers, and tablets isn't healthy (over a long period of time) and can lead to not only back and neck issues, but psychological ones as well. This may include lowered self-esteem and mood, decreased assertiveness and productivity, and an increased tendency to recall negative things.
Too much device usage could also cause your eyesight to suffer.
Intense device usage can exhaust your eyes and cause eye strains, according to the Mayo Clinic. This can lead to symptoms such as headaches, difficulty in concentrating and watery, dry, itchy, burning, sore, or tired eyes. Overusing could also cause blurred or double vision and increased sensitivity to light.
Technology is addictive and could lead to a sedentary lifestyle
Whenever we use our devices for hours on end (guilty!), it is also often paired with extended periods of sitting, whether at desks, on couches, or in bed. Having a sedentary lifestyle leads to an increased risk of many conditions and diseases, including diabetes, cardiovascular disease, colon cancer, and obesity, according to the World Health Organization. According to WHO, "at least 60% to 85% of people in the world – from both developed and developing countries – lead sedentary lifestyles, making it one of the more serious yet insufficiently addressed public health problems of our time," the organization noted.
Bringing the Yin and Yang into the light, of course, everything comes in two's. Blaming technology is like blaming Joseph Fry for creating chocolate as the cause of obesity. Knowing the possible negative effects can help you take steps to identify and minimize them so that in the long run you can still enjoy the positive aspects of technology. At IPSB, we encourage our employees to always practice moderation, be aware of one's own health conditions, personal limit, to exercise regularly and to keep staying healthy.
Below are IPSB Work From Home tips.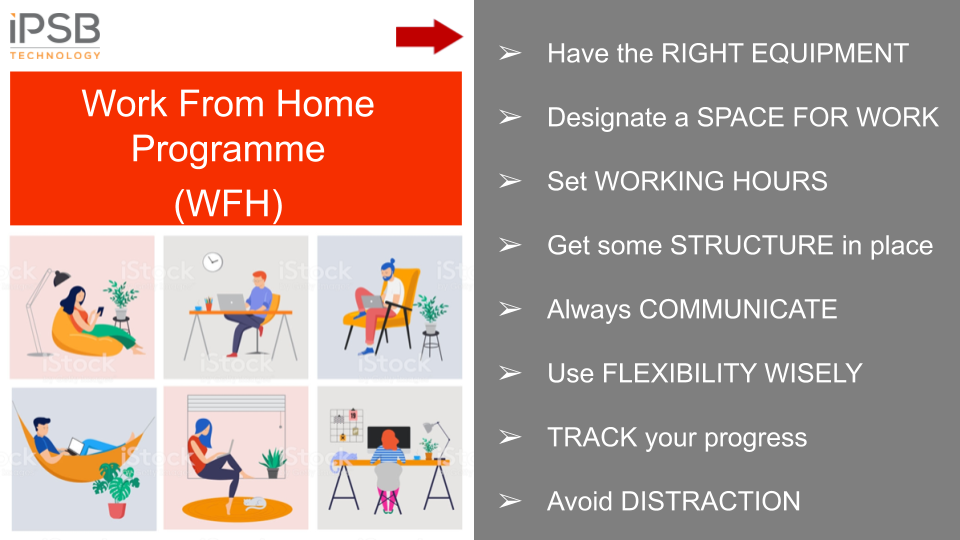 Take regular breaks, and enjoy life!
Wherever you work from, remember to keep a positive view of life and live every day to the fullest. Regardless of work demands, we should utilize technology to our advantage and as a solution. And that's why at IPSB, we are always Making Technology Work For You, not the other way around.
To connect, visit my LinkedIn Page.
Do visit IPSB Technology LinkedIn Page for more story and highlights.
Do you have any questions? Email us at sales@ipsb.com.my / info@ipsb.com.my