KUALA LUMPUR, 23 March 2022 – IPSB Technology celebrates its win for " FY21 HPE Emerging Partner Award" during the HPE Partner Kick-off 2022 event. This year's event was held virtually on the 23rd of March 2022, to commemorate the best performing HPE partners of FY21.
Accepting on behalf of IPSB Technology is Mardhiah Nasir, Executive Director and Vice President of Sales for IPSB Technology, "We would like to thank HPE for the award, with hopes that we will receive more awards in the future ! IPSB Managed Services offer top of the line solutions to broadcasters in Malaysia and countries located in the Asia Pacific Region. IPSB Technology has always been able to respond to changes in the digital era and offers tailored, made-to-measure solutions that fit each customer's digital transformation journey."
IPSB Technology won the award for its support in introducing HPE servers that deliver the latest in security, performance and expandability, securely designed to reduce costs and complexity. IPSB chose HPE solutions as it offers long term reliability, ease of maintenance and ease in upgrading. HPE is also among the best in offering after sales support. and widely known to be used by top broadcasters worldwide. 
Hewlett Packard Enterprise is a globally renowned company known for its untiring endeavors in introducing new products and services, exploring technology and  market trends and providing industry with deep insight and best practices.
IPSB Technology's vision is to be the leading global solutions provider to combine innovation, skills and technology for a more sustainable future. 
About Hewlett Packard Enterprise (HPE)
HPE helps transform and run digital business by enabling them to connect, protect, analyse and act on all data, from edge to cloud. Aiding in a customer's transformation journey, to help solve their most pressing data and IT challenges.
For more information on IPSB Technology, visit our website here or follow us on instagram, Facebook and LinkedIn        
---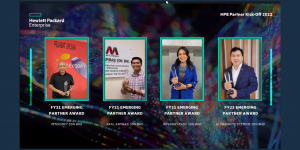 KUALA LUMPUR, 23 Mac 2022 – IPSB Technology meraikan kemenangan anugerah "HPE FY21 Emerging Partner Award" melalui acara "HPE Partner Kick-off 2022″. Tahun in, acara tersebut dianjurkan secara virtual pada 23hb  Mac 2022, untuk memperingati prestasi terbaik yang dicapai oleh rakan niaga HPE  bagi tahun 2021.
IPSB Technology yang diwakili oleh Mardhiah Nasir, Pengarah Eksekutif bersamaan Timbalan Pengarah Jualan, menerima anugerah tersebut. "Kita ingin mengucapkan terima kasih kepada HPE atas anugerah ini dengan harapan untuk memenangi banyak lagi anugerah di tahun tahun hadapan ! Perkhidmatan Pengurusan IPSB menawarkan solusi bertaraf tinggi kepada penyiar samada di Malaysia atau sekitar Asia Pacific. IPSB Technology amat peka kepada perubahan dalam era digital dan menawarkan penyelesaian yang diubah suai mengikut kemahuan dan kesesuaian pelanggan yang menjalankan transformasi digital."
IPSB Technology memenangi anugerah tersebut berikutan sokongannya dalam memperkenalkan server keluaran HPE, yang menghasilkan keluaran terbaru dari segi sekuriti, prestasi dan keberkesanan, dan ia juga direka bentuk untuk mengurangkan kos dan kerumitan. Kita memilih solusi HPE kerana ia menawarkan keandalan jangka masa yang lama, senang diselenggara dan senang dinaik taraf. HPE juga diantara mereka yang menawarkan perkhidmatan selepas jualan yang terbaik. Ia juga dikenali dan digunakan secara meluas oleh penyiar-penyiar utama di dunia. 
Hewlett Packard Enterprise merupakan perniagaan terkemuka dunia yang dikenali bagi ikhtiar yang tidak putus dalam memperkenalkan produk dan service terbaru, peneroka teknologi dan tren pasaran, dan mengemukakan kepada industri dengan pandangan mendalam serta kaedah terbaik.  
Visi IPSB Technology adalah untuk menjadi peneraju dalam  membekal solusi global  yang menggabungkan innovasi, kemahiran dan teknologi bagi masa depan yang lestari.
Mengenai Hewlett Packard Enterprise (HPE)
HPE membantu pengurusan dan transformasi perniagaan digital dengan persediaan mereka untuk bersambung, melindungi, menganalisa dan bertindak terhadap semua data samada dari perisian atau awan. Sekaligus menolong perjalanan transformasi pelanggan dalam mengatasi dan menolong cabaran dihadapi dengan data dan IT. 
Untuk mengikuti perkembangan IPSB Technology, layari laman sosial kami di instagram, Facebook dan LinkedIn