Sime Darby Convention Center, Bukit Kiara, 17 May 2022 – IPSB Technology's Raya Open House 2022 was held  after a three year hiatus.  
Watch the video for happenings throughout the event
Among the guests were FINAS Chairman YBRs. Tuan Zakaria Abdul Hamid, RTM and Media Prima Berhad personnel. IPSB's Technology business partners were also present that day with some coming from different parts of the world to attend the event. Welcomed that day were representatives from Amazon Web Services (AWS), Arista, Grabyo, Triton Digital, Hewlett Packard Enterprise (HPE) and numerous others.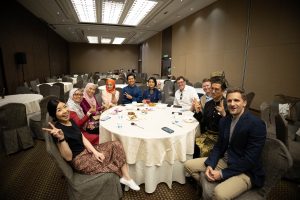 Datuk Nasir Baki & the management team with some our guests from RTM, Boomlabs who flew in from Australia and Grabyo from Singapore
Mardhiah Nasir, Executive Director and VP of Sales for IPSB welcomed guests clad in traditional songket with full head gear "We are all excited to have this event as we have not been able to host or meet physically with our customers and partners in the last two years. Once the government allowed it, Datuk Nasir and I immediately made sure that it was going to happen. 
Looking at the turnout today, we are really grateful for the support and hope everyone got a bit to eat, mingle with others in the industry and enjoy the impromptu Amy Search performance  " she said.
About 400 guests turned up to join in the Raya celebration, themed "Nostalgia Raya" where guests were decked in their traditional finery. Raya delicacies by Sime Darby were served alongside popular desserts to our multinational guests. 
The Peace Lover, a local  traditional acoustic band, entertained the guests . There were also some activity booths prepared for the guests. The Photo Memorabilia booth was for guests to bring home instant photo snaps. The team also set up  a 'Kedai Runcit' Snack Booth 'selling' yesteryears snacks' where proceeds were to be donated to the "Rumah Cahaya Kasih" orphanage located in Kota Damansara, Selangor.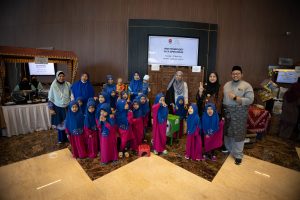 Thank You Rumah Cahaya Kasih for spending the day with us
Several lucky draws were also held to enliven the celebration, some of which were concert tickets to watch rock band phenomena Search, live handed out by the legendary rocker, Amy Search himself. The concert entitled "Endemik" was held at Zepp KL, on the 5th and 6th Of June 2022. 
We look forward to all the sharing with #ipsbraya and more pictures are available on our FB page.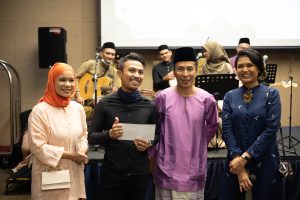 Amy Search with one of the lucky draw winner alongside Peace Lover Band
For more information on IPSB Technology, visit our website here or follow us on instagram, Facebook and LinkedIn        
---