IPSB Covid-19 Food Aid
by Alia Zainal, Head of Marketing Communications
This is 2020, the year where we thought cars would fly and it turned out in March 2020, even planes were not really flying. In Malaysia, after the government announced a Movement Control Order (MCO) effective 17th March 2020, IPSB Technology launched our first fundraising campaign, the IPSB Covid-19 Food Aid Campaign on the 25th of March 2020.
As the number of COVID-19 cases rises in Malaysia, we realise the supply of healthy food can affect all our respected frontliners as well as the urban poor and homeless. The funds from this campaign were intended:
To supply healthy food to all respected frontliners as well as the asnaf, urban poor and homeless.
To support local restaurants and local shops to ensure continuity in business.
Check out our poster below. Targeting close friends and family members, our target was to reach RM 12,000 with a matching scheme. Every RM 1 donated will be matched one-to-one by IPSB. Therefore, RM 6000 donated will be matched with RM 6000 to get a total of Rm 12,000. The support was amazing, we reached the numbers in one (1) days. By 1st April 2020, the first distribution in collaboration with Caffe Abnomal and local bread maker for 600 packs of meals and 490 loaves of bread was delivered to support Need to Feed the Need, Hospital Sg Buloh, PPR Kepong, Old Folks Home and Orphanages.
Donors were updated on the campaign and distribution via #IPSBFoodAid and IPSB Facebook Page. On 2nd April 2020 onwards, our CSR team decided to distribute Basic Food Packs for longer sustainability and bigger coverage. Working with multiple NGOs, Facebook groups and corporations, the IPSB Covid-19 Food Aid campaign's initial target of matching each RM 1 donation up to RM 10,000. IPSB eventually matched RM 20,000 of public funds. In total, the IPSB Food Aid funds comprised of TOTAL RM 47,600 with the breakdown:
RM 27,600 public funds
RM 20,000 IPSB matching fund
Further fund breakdowns:
1st April 2020- reached targeted RM12,000 (RM 6000 public + RM 6000 IPSB)
23rd April 2020 – reached targeted RM 24,000 (RM 15,000 public + RM 15,000 IPSB)
30th April 2020 – reached RM 41,590 out of RM 36,000 target (RM 21,590 public + RM 20,000 IPSB)
16th May 2020 – funds received RM 46,700
Below we have compiled a summary of co-sponsors, type of aid and beneficiaries for #IPSBFoodAid. This effort may seem small to compared to other corporate fundraising but our team is honoured to have been part of this campaign; serving #kitajagakita communities and understanding the plight of people affected by Covid-19 and MCO.
As we officially close this campaign, IPSB would like to THANK YOU from the bottom of our heart for your support; sharing, donating & distributing funds and aid to those in need.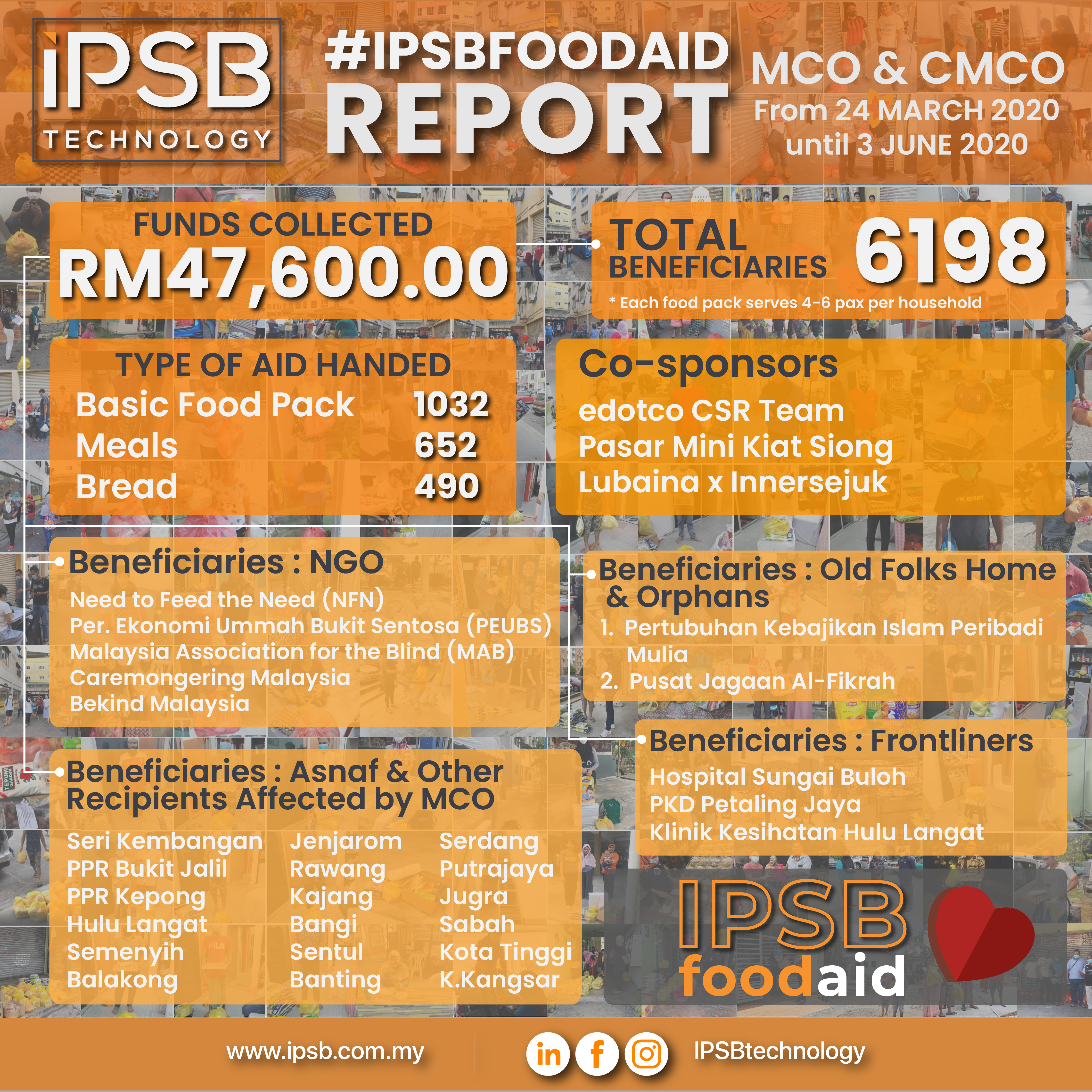 To connect, visit my LinkedIn Page.
Do visit IPSB Technology LinkedIn Page for more story and highlights.
Do you have any questions? Email us at sales@ipsb.com.my / info@ipsb.com.my