Building New Paths of Data Storage
Sept 14, 2020 by The Leadership Post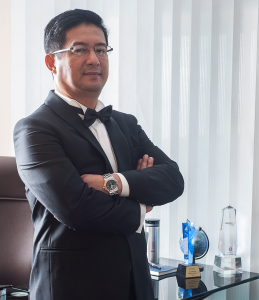 As interviewed by Sharon Ng (Published on 25, March 2019)
A quaint office in Kota Damansara, a nice-looking CEO with positive vibes.  Interesting to talk to someone who is future-looking and also still young. A cheerful demeanour is much needed in the Corporate World.  What made you start this business/ industry? What drives you?
I studied computer science in the United States at a time when many in Malaysia still had never seen a computer in their lives. It was the fast pace in technology was changing that truly intrigued me ever since. I have always seen the opportunity in data storage technology – which is the key component for big data, cloud computing across the industry regardless whether it was oil and gas, media entertainment or small-scaled production houses. Our first project was with Petronas, seismic data project – where we used EMC's Isilon which is the leader in unstructured storage.
The journey would have been tough.  All the ups and downs of the corporate world.  But sustenance to his trade is much admired.  How did you fail or succeed as a leader that has directly impacted your success and led you to where you are today?
It has not always been sunshine and rainbows. Although we try to keep up with the pace of change, there were times in which our focus in a particular industry caused some major setbacks financially. It was a great learning experience for me as a leader; to always keep our options wide and open. Although a particular industry is thriving, we must always look for opportunities elsewhere and target to become the industry expert in terms of solutions – that can be implemented regardless of the nature of business. Today, IPSB has widened our customer reach to include transportation and universities. Not forgetting the education sector as well as maintaining our reputation in the media entertainment, life sciences and oil & gas sectors. I have learnt that adapting to change is crucial for individual growth as well as for IPSB.
A very down-earth CEO and seeing his people reflects what a CEO he is.  Interesting to hear what his future plans are in this industry.  What do you hope to accomplish within the next 3 to 5 years?
I have high hopes for IPSB to be a sustainable player in key market segments especially our customized managed services namely Enterprise Storage Archiving Systems (ESAS) and Data Lifecycle Orchestrator (DaLO). Every business has its own needs in terms of data storage, some are ready to follow the trend; in which uses cloud storage but some are more traditional. Our solutions allow a hybrid in storage for both the traditional and advanced business as well as prepare a roadmap to optimize cost, and towards a sustainable future. Aside from that, we are ready to accept the challenge of becoming a manufacturer for the nation. Our R&D team is working hard to produce a global standard for servers and storage that can be used across the industry.
Walking the talk sort of CEO.  He will lead and guide his staffs to become better than him.  How do you nurture and craft the next generation of leaders?
IPSB is comprised of young talents from a wide variety of background experience. I always feel that IPSB is a good platform for them to explore new territories, make decisions not confined to certain procedures and methods of doing work. I love challenging them with ideas, and seeing how problems are solved unconventionally. They have the room to learn, make mistakes and grow without being reprimanded. I always believe that one will not be fired for making mistakes, but will be fired for not making any decision. There is so much truth in the saying, 'you miss 100% of the shots you don't take'. As a leader, these young ones need to understand that they need to be pragmatic, not just stick to the old style, and always explore new market opportunities.
Feeling positive vibes from this CEO who has it all in his pocket.  He knows where he wants to be and will get there no matter what obstacles lay before him.  What qualities do you think the leaders of tomorrow should possess?
Knowledge is key. With technology, the ability to learn is endless. The Internet has allowed current generations to access information at the tips of their fingers. Compared to my generation, we had to go through books and visit libraries for new info. However, the influx of data can also bring negative impact. Therefore the ability to filter information – using it for the greater good, deciding the type of knowledge that they should seek based on the availability and the perseverance to excel. Do not give up. It is a long and windy road, there will definitely be obstacles and challenges. Rise above it, equip yourself with knowledge and use experiences to grow bigger and better.
Future thinking and optimistic of what the ICT industry will bring to his business.  Looking forward to many good things to come from this company and to see it going towards all its successes.  What is the competitive position in the industry? How do you stand out from the competition?
For the past 10 years, the challenge I had with growing IPSB is to get the right people with the knowledge skillset that can work harmoniously together. We are like a big family with certified experts that focus on our core competencies; IPSB is not a general system integrator. Our key strength is being able to look at a bigger picture, assess their pain points and deliver a solution that not only solves their (companies) current problem but optimize their business process as well. Our dedication to our customers allows organic growth based on strategic positioning in areas we excel. Our ESAS and DaLO not only allow for hybrid cloud computing but our goal for a sustainable future is through the implementation of such solutions with our customers. Being a member of UN Global Compact helps us realize this better.
Link to the article: The Leadership Post
To connect, visit my LinkedIn Page.
Do visit IPSB Technology LinkedIn Page for more story and highlights.
Do you have any questions? Email us at sales@ipsb.com.my / info@ipsb.com.my