Special thanks to Nadeem, Geraldine and the whole ABU team for inviting us to be part of this annual event and congratulations on the success. The 17th edition of the ABU Digital Broadcasting Symposium was held virtually on 5-8 April 2021 for the first time. Organised by the Asia-Pacific Broadcasting Union, the symposium consisted of 13 sessions, including three workshops, which were presented by close to 50 experts from around the world. This year's theme is Inspire, Engage & Enhance and streamed to participants worldwide from the Asia-Pacific Broadcasting Union (ABU) building in Kuala Lumpur, Malaysia.
The symposium attracted many participants representing broadcasters, telcos, regulators, manufacturers and other industry players. It provided a unique opportunity for participants to gain access to information on a wide variety of aspects of broadcasting, including the move to digital as well as more advanced topics such as Cloud, 5G, AI and IP applications. #DSB2021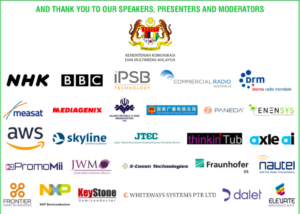 IPSB Technology would like to thank our partners who participated in the symposium to educate and share their expertise to the broadcast industry.
The full report is available on the ABU Technical Review Q2 vol 286 which includes sessions from IPSB Technology, AWS, axle ai, Triton Digital & Dalet
ADVANCED TECHNOLOGIES AND INDUSTRY DEVELOPMENTS
The first session was moderated by Masashi Kamei, NHK Science & Technology Research Laboratories and the panellists were Yukihiro Nishida, NHK; Lindsay Cornell, BBC Digital; and Mardhiah Nasir, IPSB Technology.
CLOUD REVOLUTION IN THE MEDIA INDUSTRY
The Moderator was Hamid Dehghan Nayeri, IRIB-Iran and the panellists were Lars-Peder Lundgren, Paneda; Colin Prior, ENENSYS Technologies and Shweta Jain, Amazon Web Services, Singapore.
AI AND BIG DATA APPLICATIONS IN MEDIA
The moderator was Asaad Sameer Bagharib, Director, Thinking Tub
Media and the panellists comprised, Mohammad Nozari Pak, IRIB-Iran; Sam Bogoch, axle ai; Michael Moss, Promo Mii; Joe Goddard, James & Wilkinson Media and Amir Lakizadeh, IRIB-Iran.
ADVANCED AUDIO & STREAMING TECHNOLOGIES
The session was moderated by Dr Les Sabel, WorldDAB and the panellists were Mohammad Reza Hasanabadi, IRIB- Iran; Aditya Summanwar, Triton Digitaland Geoffrey Low, Dolby.
IP TECHNOLOGIES AND REMOTE PRODUCTION
The session was moderated by Aale Raza, Whiteways Systems and the panellists were Rahul Goyal, Dalet; Peter Bruce, Elevate Broadcast and Yew Jin Cheong, Rohde & Shwarz.
See you for ABU DBS 2022
Full report ABU Technical Review
Do visit IPSB Technology LinkedIn Page , Facebook or Instagram for more story and highlights