The Asia-Pacific Broadcasting Union , Digital Broadcasting Symposium 2023 (ABU DBS 2023)
From 6th to 9th March 2023, the symposium made a highly anticipated comeback as an in-person event after a two-year hiatus. To get a glimpse of the symposium's highlights, make sure to visit the Asia-Pacific Broadcasting Union's flickr account here .
IPSB Technology and Partners Booth at the ABU DBS 2023
IPSB's first exhibit in the ABU DBS yearly event was in 2019 where IPSB  won the DBS Best Booth Award. This year,  we will be joined by our partners Amazon Web Services (AWS), ARISTA, Codemill  and Tools on Air.  
Visit us at our booths for demonstrations and updates of our featured products and solutions. Numerous activities and games await you at our booths. Stand a chance to win attractive prizes and giveaways. Come early to grab limited edition corporate merchandise. 
Visit our booths 27,28,29,& 30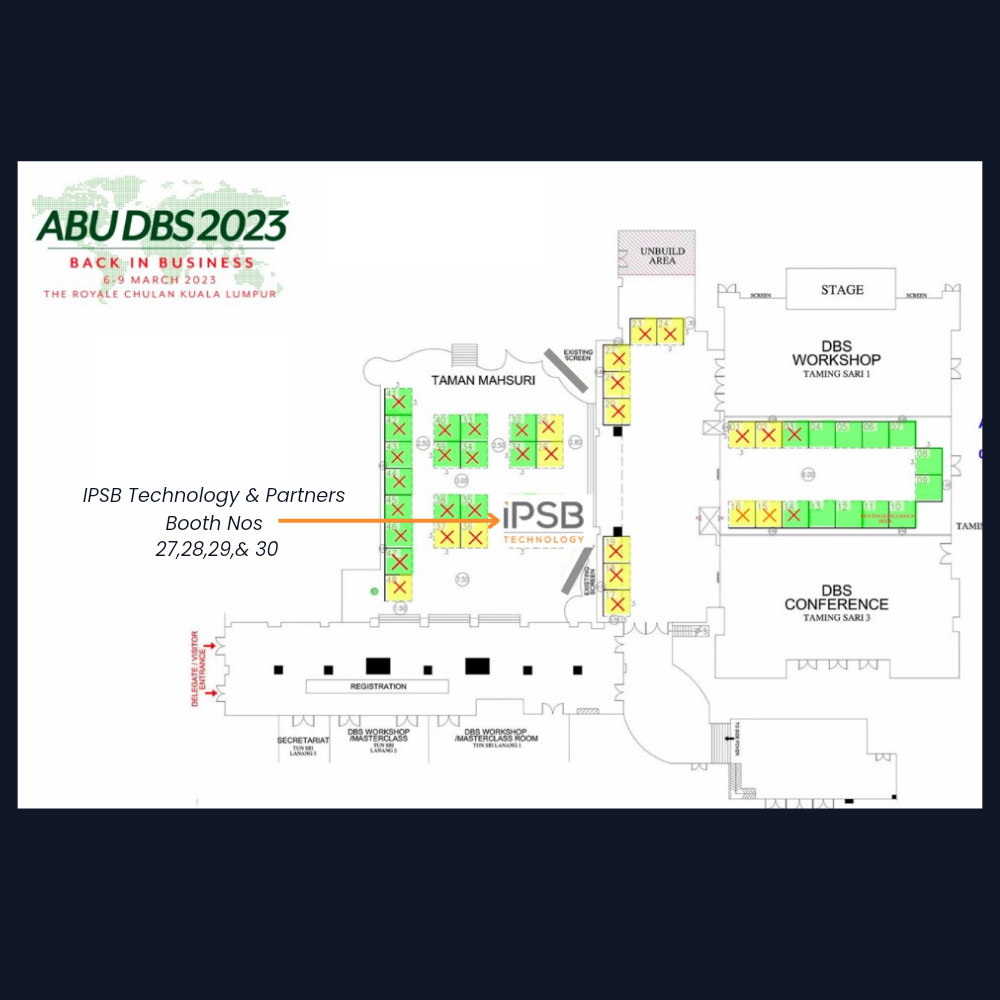 Workshop & Panel Discussions
This year IPSB Technology and partners will hold a workshop and also participate in panel discussions on specific topics  dispersed throughout the 4 day event. 
Join our Workshop which will feature our technology  partner, leading cloud computing giant, Amazon Web Services (AWS) with valuable insights from WebTVAsia and MGID. 
AWS has previously collaborated with us in panel discussions and presentations  for various ABU events ; the Virtual ABU DBS 2021 and 2022, ABU Technology Webinar 2022 : Archiving and Media Asset Management and the ABU Workshop 2022 : Cloud Technologies for Media Services.
Join us for our Workshop on 6 March 2023, 9.30am – 13.00pm entitled 
"Monetization: How Broadcasters can Leverage AdTech "
For more information on IPSB Technology, visit our website here or follow us on instagram, Facebook and LinkedIn      
ARISTA NETWORKS
Arista Networks is a leading provider of cloud networking solutions that use software innovations to address the needs of large data center and computing environments for enterprises, service providers and hyperscale web companies. Arista's award-winning platforms, ranging in Ethernet speeds from 10 to 100 gigabits per second, redefine scalability, agility and resilience – for high-performance businesses. Founded in 2004, Arista has shipped more than 15 million cloud networking ports worldwide with CloudVision and EOS, an advanced network operating system. Committed to open standards across private, public and hybrid cloud solutions, Arista's philosophy is "open by design; open vision". 
Arista will also be participating in Session 2 : Cybersecurity and media industry. The session will look into ways of managing network, content, & system protection and to share cyber threat cases and best practices to mitigate these risks.
Partnering with IPSB Technology at the ABU DBS has enabled us to deliver the next generation of Gigabit Ethernet switches.  It has redefine scalability, robustness, and price-performance, while simultaneously offering a highly refined user experience. We look forward to the success that this partnership can offer the industry.  
https://www.arista.com/en/solutions/security#:~:text=Arista's%20security%20approach%20allows%20organizations,analysts%20can%20take%20remedial%20action
https://www.featuredcustomers.com/vendor/arista-networks/case-studies?p=2
Codemill
Codemill designs and develops cloud native software for Media Supply Chain and Media Asset Management.
Their  award winning and popular Accurate Video tools are used by major studios, broadcasters and media brands, to manage content validation, localisation, asset versioning, Quality Control, segmentation workflows and poster image preparation for broadcast, AVOD/SVOD, FAST channels and social media platforms.
Accurate.Video runs on any infrastructure but is optimised for Amazon Web Services (AWS) and integrates with SDVI Rally, our own Cantemo Media Asset Management software, Vidispine media backbone APIs, and iconik SaaS.
https://www.codemill.se/case-studies
ToolsOnAir
ToolsOnAir is a Mac based software company which specialises in file-based television production systems. The appeal of ToolsOnAir stems from the system being easy to use, reliable and quick to implement. This makes it a solution that can be used beyond small or medium sized projects. ToolsOnAir provides seamless playback, ingest, editing and automation solutions for NLE and MAM systems, especially for Apple environments. Broadcasters around the globe are using ToolsOnAir products for playout automation in their channels. Having a solution that requires far less hardware.  While being more flexible, scalable and simple to deploy than any other ingest/playout system.
https://www.toolsonair.com/wnmu-tv-13-broadcasts-two-hd-channels-and-one-sd-channel-24-7-with-toolsonair/
Follow our instagram, Facebook and Linkedin  for product and solutions and upcoming event updates.