axledit, new cloud editor with integrated media search and collaboration, transforms video work
BOSTON (USA), 22 February 2022 – The boom in video use for social media and marketing has been paralleled by swift migration to the cloud. Today axle ai, a video industry leader for nearly a decade, is launching axledit, a revolutionary browser-based video editor with integrated collaboration, search and publishing features.
The product offers a fluid, radically simple browser interface, and user pricing tiers of Free, $10/month and $50/month. Users can sign up directly from the axledit website. Yet it provides a level of power and control previously only available to editing solutions running on laptops and workstations. You can also export your sequences from axledit to software like Adobe Premiere Pro, Avid Media Composer and Apple Final Cut Pro.
"What makes axledit so intriguing" said industry expert Larry Jordan,"is that it couples a media asset management back-end with a simple video editing interface at the front. While not a replacement for a stand-alone NLE, it makes new kinds of cloud-based video collaboration possible." Webinars demonstrating axledit will be held this Thursday at 7am EST/2pm CET (signup link here).
axledit's unique collaboration features allow not only browser-based review and approval by producers and clients, but also simultaneous editing sessions with a shared view of the current state of the timeline and playback. This capability is especially important in a world where remote work has become not only accepted, but the overwhelming choice of content professionals industrywide.
Other key axledit features include:
Professional-style timeline with multiple audio and video tracks

High speed, interrupt-resilient uploads of huge video files

Effects and transitions

The ability to directly import stock video content

Access to axle ai on-premise and cloud media management servers
Direct publishing of edits to YouTube and Vimeo is another standout feature of axledit, allowing creators to manage, edit and publish their content directly to these leading platforms without ever having to download large media files, edit them or upload finished media to the cloud. 
Simultaneously, axle ai announced the release of axle ai 2022, its flagship AI-powered media management solution which can catalogue and tag nearly media on any combination of on-premise and cloud storage. Featuring an all-new user interface with a Dark theme, axle ai 2022 offers several key features including:
integrated, super-affordable speech transcription ($1 per hour)

integrated, fixed-cost face recognition

integrated, fixed-cost logo recognition

integrated, fixed-cost object recognition
Together, axledit and axle ai 2022 offer a complete solution to the needs of remote media teams who capture, edit, search and repurpose large amounts of video.
Pricing and availability
axledit is available immediately on a monthly licensed basis. Available tiers are Free, $10 per user per month and $50 per user per month. In addition, an Enterprise tier is available with a number of key features including hybrid cloud/on-premise configurations, and workflow automations. Complete, private instances of the axledit cloud back end are also available on request for clients such as content studios who wish to have a 'walled garden' version specific to their network. All axledit and axle ai 2022 products are available through axle ai's reseller/integrator network, featuring leading integrators such as Malaysia's iPSB (axle's preferred partner in the APAC region).
About axle ai
axle ai has been a partner of IPSB Technology since 2020. axle ai is the pioneer in developing radically simple software for video search and sharing. It's a browser based system to automatically tag your media so you can find it quickly, from any web browser, smartphone, or tablet on site or remotely. axle ai software also connects with the storage you already own, using your existing folder setup.
For more information on IPSB Technology, visit our website here or follow us on instagram, Facebook and LinkedIn        
*note dated 25th February 2022: Please feel free to checkout the link to the recorded "axledit Webinar February 23rd" here
---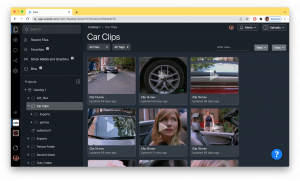 Pengumuman Produk Terbaru dari AxleAI – AxleEdit Merupakan Aplikasi Perisian Yang Mengintegrasikan Carian dan Koloborasi Media, Transformasi bagi Kerja Video 
BOSTON (USA), 22 February 2022 – Peningkatan penggunaan video dalam penyiaran sosial media dan pemasaran berleluasa berikutan penghijrahan pantas ke pengkomputeran awan. axle ai pada hari ini, setelah sedekad dikenali sebagai ketua industri video, melancarkan axledit, editor video yang berasaskan pelayar yang berintegrasi dengan carian, penerbitan dan ciri-ciri kolaborasi. 
Produk ini menawarkan antara muka pelayar yang ubah-alih dan mudah, dengan menawarkan tier harga pengguna yang terdiri daripada Percuma, USD10/sebulan dan USD50/sebulan. Pengguna boleh mendaftar terus di laman web axledit. Tambahan lagi, ia menawarkan tahap kuasa dan kawalan yang sebelum ini hanya boleh didapati oleh penyuntingan penyelesaian daripada komputer riba dan stesen kerja sahaja. Anda juga dapat mengeksport urutan dari axledit ke perisian seperti Adobe Premiere, Avid Media Composer dan Apple Final Cut Pro.
"Perkara yang menarik mengenai axledit,"  pakar industri Larry Jordan berkata , "adalah kerana ia digabungkan dengan pengurusan penghujung aset media dengan penyuntingan video antara muka daripada awal. Walaupun ia bukan pengganti bagi kendiri NLE, ia mengemukakan  pembaharuan  kepada jenis kolaborasi video berasaskan awan." Demonstrasi webinar axledit akan dianjurkan pada Khamis , 24 hb Februari, 2022  , jam 8.00 malam (daftar di sini).
Ciri-ciri unik kolaborasi axledit bukan sahaja mengizinkan kajian semula dan kelulusan berasaskan pelayar, tetapi ia juga menawarkan sesi penyuntingan serentak dengan paparan dikongsi bersama pada garis masa dan main balik. Keupayaan ini amat penting bagi keadaan semasa dunia ini, dimana kerja jauh bukan sahaja telah diterima, tetapi dengan wujudnya pilihan kandungan (content)  yang luar biasa untuk para profesional di industri ini. 
Ciri-ciri kunci axledit yang lain termasuk : 
Garis masa gaya profesional dengan pelbagai trek audio dan video

Muat naik kelajuan tinggi, mengganggu-berdaya tahan bagi fail video yang besar

Kesan efek dan peralihan

Kebolehan untuk mengimport stok kandungan video secara langsung

Akses kepada

axle ai

di premis dan server pengurusan media awan
Penerbitan secara langsung bagi edit-edit ke YouTube dan Vimeo juga adalah satu lagi ciri menonjol axledit, membenarkan pencipta untuk mengurus, edit dan menerbitkan kandungan mereka secara langsung ke platform utama tersebut tanpa perlu terlebih dahulu memuat turun fail media yang besar, seterus mengedit atau muat naik media yang selesai ke awan. 
Pada masa yang sama, axle ai juga ingin mengumumkan pelancaran axle ai 2022, produk solusi pengurusan media perdana yang dapat melakukan katalog dan tag bagi hampir semua kategori kombinasi media di premis atau penyimpanan awan. Memaparkan antara muka pengguna serba baru dengan tema Gelap, axle ai 2022 menawarkan beberapa paparan kunci termasuk :
Transkripsi ucapan (USD1/sejam) bersepadu dengan harga mampu-milik

Pengiktirafan muka bersepadu dengan harga kos tetap

Pengiktirafan logo bersepadu dengan harga kos tetap

Pengiktirafan objek bersepadu dengan harga kos tetap
Gabungan bersama, axledit dan axle ai 2022 menawarkan solusi kepada keperluan kerja jauh pasukan media yang menangkap, mencari dan menggunakan semula jumlah video yang besar.
Penentuan Harga dan  Ketersediaan
axledit sedia untuk digunakan dengan serta merta pada kadar pelesenan bulanan. Tersedia adalah secara PERCUMA, USD 10 dan USD50 bagi setiap pengguna setiap bulan. Tambahan lagi, "Enterprise tier' juga dapat diperolehi dengan sebilangan ciri-ciri kunci seperti konfigurasi "hybrid cloud"/di premis, dan otomasi aliran kerja. Kerja penghujung awan axledit secara peribadi yang lengkap, juga ditawarkan kepada pelanggan seperti studio penghasilan kandungan yang inginkan versi "walled garden" yang spesifik untuk rangkaian tersendiri mereka.  Semua produk axledit dan axle ai 2022 boleh didapati melalui rangkaian penjual semula/rakan kongsi kerjasama  axle ai, yang menampilkan rakan terkemuka  seperti iPSB (rakan kongsi kerjasama pilihan axle di serantau APAC).
Mengenai axle ai
axle ai adalah rakan kerjasama IPSB Technology sejak 2020.  axle ai merupakan perintis dalam penghasilan perisian mudah secara radikal untuk pencarian dan perkongsian video. Ia merupakan sistem berasaskan pelayar untuk tag media secara otomatik supaya anda dapat mencarinya dengan pantas, dari mana-mana pelayar web, telefon pintar, atau tablet di premis atau dari jauh. Perisian axle ai juga boleh bersambung dengan stor penyimpanan yang sudah dimiliki, dengan menggunakan folder sedia ada anda.
Untuk keterangan lanjut tentang IPSB Tecnology, layari laman sosial kmai di instagram, Facebook dan LinkedIn        
*nota bertarikh 25 Februari 2022: Sila melawat pautan video rakaman "axledit Webinar February 23rd" di sini